Archicollages by Ewa P. Porębska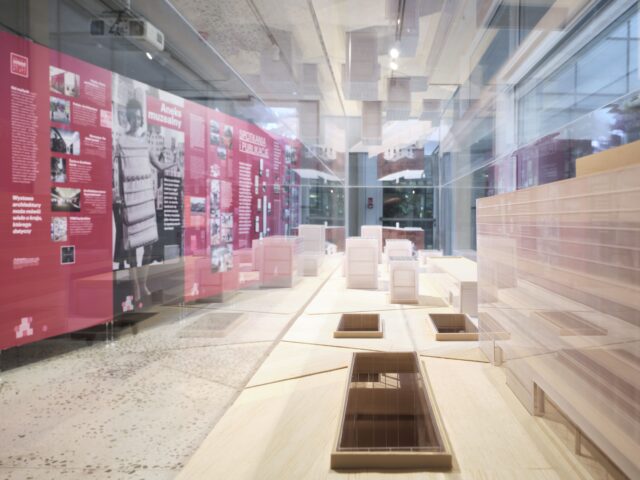 Archicolleges are an exhibition about ideals, but also about architectural temptations, exemplified by the concepts of utopian, ideal cities. It is also a story about designer attitudes and changes in architectural priorities in response to the challenges posed by modern times. And, of course, what is of particular concern to the exhibition's author – how debates, competitions, exhibitions, catalogues, books and magazines impact the direction of architecture development. Everything is shown in a nutshell, as it is focused on a small space.  
The presentation is accompanied by documents from 1982 – 2022 in the form of letters, sketches, archival photographs, mock-ups and film and television program fragments, as well as a series of meetings with the directors of European institutions related to architecture, curators, as well as architects. 
1982 is the year of martial law in Poland, and 2022 – is the period of the global pandemic and war in Ukraine. Between those years – political transformation, accession to the European Union, and great changes in Poland and around the world. Archicollages are the author's personal reflections on breakthroughs in architecture, on people of architecture, about architectural ideas and revaluations. 
Archicollages – an exhibition celebrating the 40th anniversary of Ewa P. Porębska's work in the architectural media. 
The event is organized by Architektura-murator Monthly together with the City of Warsaw and the ZODIAC Warsaw Pavilion of Architecture. 
Ewa P. Porębska – architect, architectural critic, curator, and expert. She works to popularize the best examples of world architecture. In 1982, Ewa P. Porębska began working in the "Architektura" monthly magazine, which at the time was the journal of the Polish Architects Association, and since then she has been continuously involved with architectural topics, writing, creating exhibitions, initiating and organizing events, making films, as well as acting on the international forum as an expert, consultant and juror of competitions, including the most prestigious and non-commercial ones, such as the official EU Mies van der Rohe Award or the Public Space Award. Since 1994, she has been the editor-in-chief of the leading Polish architectural magazine "Architektura-murator". 
"Architektura – murator" is Poland's most important and influential architectural magazine, specializing primarily in the professional presentation of contemporary Polish and worldwide architecture. From the beginning of its existence in 1994, the pages of "Architektura-murator" showcased about 4,000 structures built in our country. The monthly received 32 awards and distinctions for its graphic design and in 2014 the Minister of Culture and National Heritage Honorary Award for special contributions to the dissemination of culture. 
Colophon: 
Concept, texts: Ewa P. Porębska 
Exhibition design: Jerzy Porębski 
Identification: Edgar Bąk 
Composition: Piotr Śliwiński 
Translation: Dorota Wąsik 
Language consultation: Jacek Wiśniewski and Ewa Kuryłowicz